Efficiency for Access is a global coalition working to promote affordable, high-performing, and inclusive appliances that enable access to clean energy for the world's poorest people. It is a catalyst for change, accelerating the growth of off and weak-grid appliance markets to boost incomes, reduce carbon emissions, improve quality of life, and support sustainable development. It is co-chaired by UK aid and the IKEA Foundation.
Efficiency for Access consists of 20 Donor Roundtable Members, 19 Programme Partners, and 34 Investor Network members. Current Efficiency for Access Coalition members have programmes and initiatives spanning 62 countries and 34 key technologies.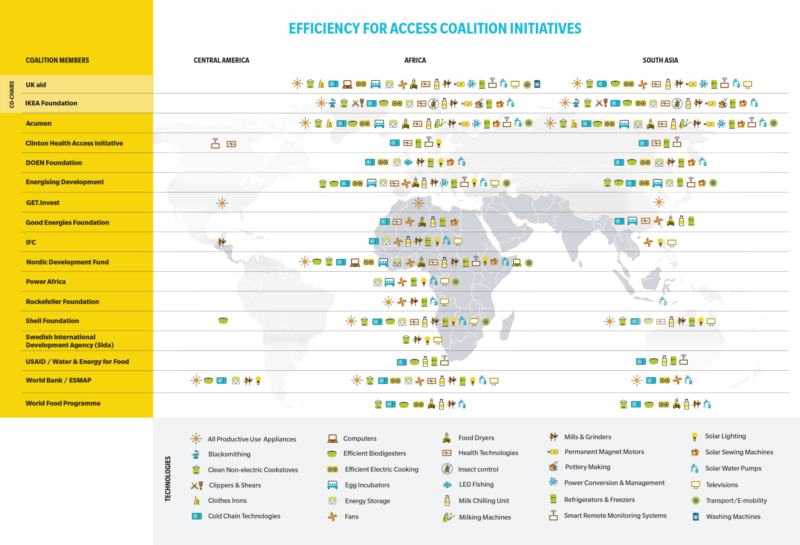 By engaging with the Efficiency for Access Coalition, stakeholders can become part of a global community working together to support to the high-performing appliance sector.
Aid agencies and foundations can join the Coalition to connect with a network of peers to share experiences, explore synergies and co-funding opportunities, and stay abreast of the latest developments in the sector.
Companies can receive funding, technical assistance and explore partnership opportunities with Coalition members and their implementing partners.
Investors can gain access to the latest market intelligence and explore co-investment opportunities with the Coalition's dedicated Investor Network.
Implementing partners, such as consulting firms and non-government organisations, can work with the Coalition to deliver innovative programmes that address market barriers and address other sector needs.
Download our latest factsheet to learn more about the Coalition and its programmes.
The Efficiency for Access Coalition is coordinated jointly by CLASP, an international appliance energy efficiency and market development specialist not-for-profit organisation, and UK's Energy Saving Trust, which specialises in energy efficiency product verification, data and insight, advice, and research.

Current Efficiency for Access Coalition members include: