Low Energy Inclusive Appliances (LEIA) Programme
The Low-Energy Inclusive Appliances (LEIA) Programme is a research and innovation programme that seeks to double the efficiency and half the cost of a range of electrical appliances suited for off- and weak-grid household, small business, and industrial consumers. The uptake of efficient end-use appliances is expected to result in improved energy access, increased incomes, reduced GHG emissions, more reliable access to health services, and improved agricultural efficiency and food security.
Supported by the UK's Foreign, Commonwealth and Development Office and the IKEA Foundation, LEIA was designed with extensive industry consultation regarding the specific challenges and opportunities of the off-grid appliance market. The programme delivers a range of activities to stimulate the sector, including five principal components that address key market barriers:
1. Market Stimulation and Incentives – Awards and prizes identify and reward innovative early-movers and best actors, as well as catalysing innovation in the early stages of a market's development. Current programs include the Global LEAP Awards and the Efficiency for Access Design Challenge.
2. Testing and Quality Assurance – LEIA collects, generates, and publishes a wide range of appliance performance and market data on an interactive, digital data platform. This tool enables market actors throughout the supply chain to make informed business decisions. In partnership with VeraSol, LEIA supports the development of quality assurance services for appliances that help make good-quality products the default option in off-grid markets.
3. Marketplace Education, Communications, and Coordination – The Efficiency for Access Coalition serves as the coordinating and convening body of the LEIA programme and affiliated activities and will increase and improve the flow of information about efficient, high quality, and appropriately designed off- and weak-grid appliances.
4. Market Intelligence and Technology Roadmapping – LEIA's research agenda is organised around four types of research: market, consumer, impacts and technology. The research serves to address gaps in market intelligence that characterise the off-grid appliance market and customer and measure the socioeconomic impacts of these appliances. Technical working groups comprised of market stakeholders are developing technology roadmaps to identify and prioritize research and development (R&D) initiatives that provide the best opportunities for accelerating development and commercialization of emerging off- and weak-grid technologies.
5. R&D Co-investments – LEIA is guiding and supporting R&D for off- and weak-grid appliances to build partnerships between the private sector and research institutions, attract new entrants to the market, and unlock private sector investment.

The graphic below highlights the LEIA Programme's activities around solar water pumps and refrigerators, two near-term technologies of focus due to their immense potential for productive use and agricultural productivity.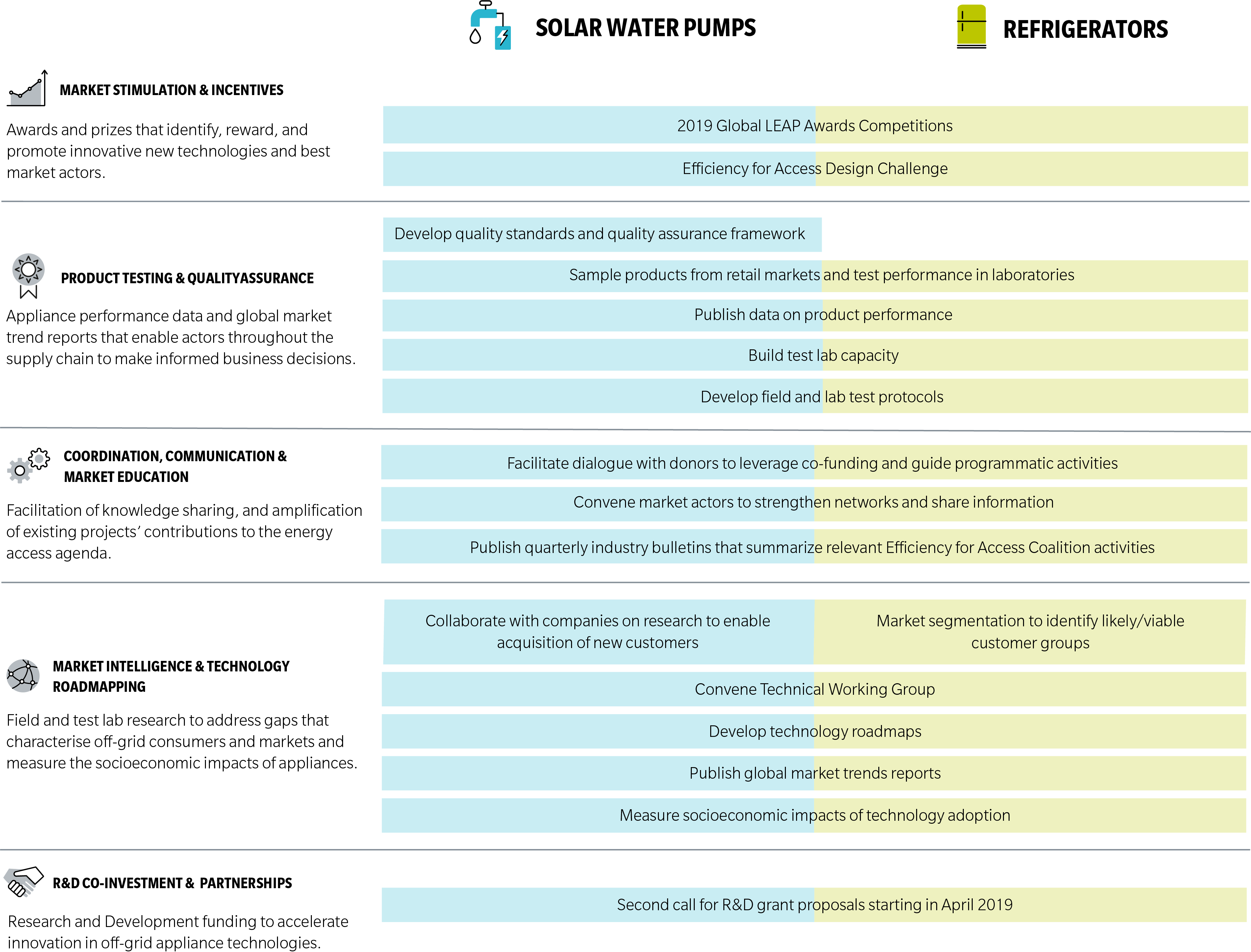 For more information about the LEIA Programme or getting involved with our work, please contact us via the Efficiency for Access Coalition.