Five key takeaways from the Global Off-Grid Solar Forum and Expo 2022
Efficiency for Access' five takeaways from the Global Off-Grid Solar Forum and Expo
Five key takeaways from the Global Off-Grid Solar Forum and Expo 2022
By Eleanor Wagner, Marketing Communications, Energy Saving Trust
The Global Off-Grid Solar Forum and Expo took place between 18 – 20 October 2022. It convened over 1000 individuals representing leading companies and programmes in Kigali, Rwanda, to talk about the past, present and future of the off-grid sector. In the run up to COP27, with increased scrutiny on the likelihood of achieving SDG7, the event served as a hub for key players in the sector to discuss the huge progress already made towards universal energy access, and what still needs to be done to achieve it. Here are Efficiency for Access' five key takeaways from the event:
Affordability remains the biggest barrier to uptake
Throughout the forum discussions, one thing became increasingly clear: affordability of energy and appliances remains the biggest barrier to significant uptake. As mentioned in the opening session, over 800 million people still need access to energy in order to accomplish SDG7. The market is growing, but many appliances remain too expensive for customers, especially larger and more nascent technologies. GOGLA and Lighting Global's recently published Off-Grid Solar Market Trends report 2022 estimated that USD 23.3 billion of new capital is needed to achieve energy access for all, $15.5 billion of which is currently missing.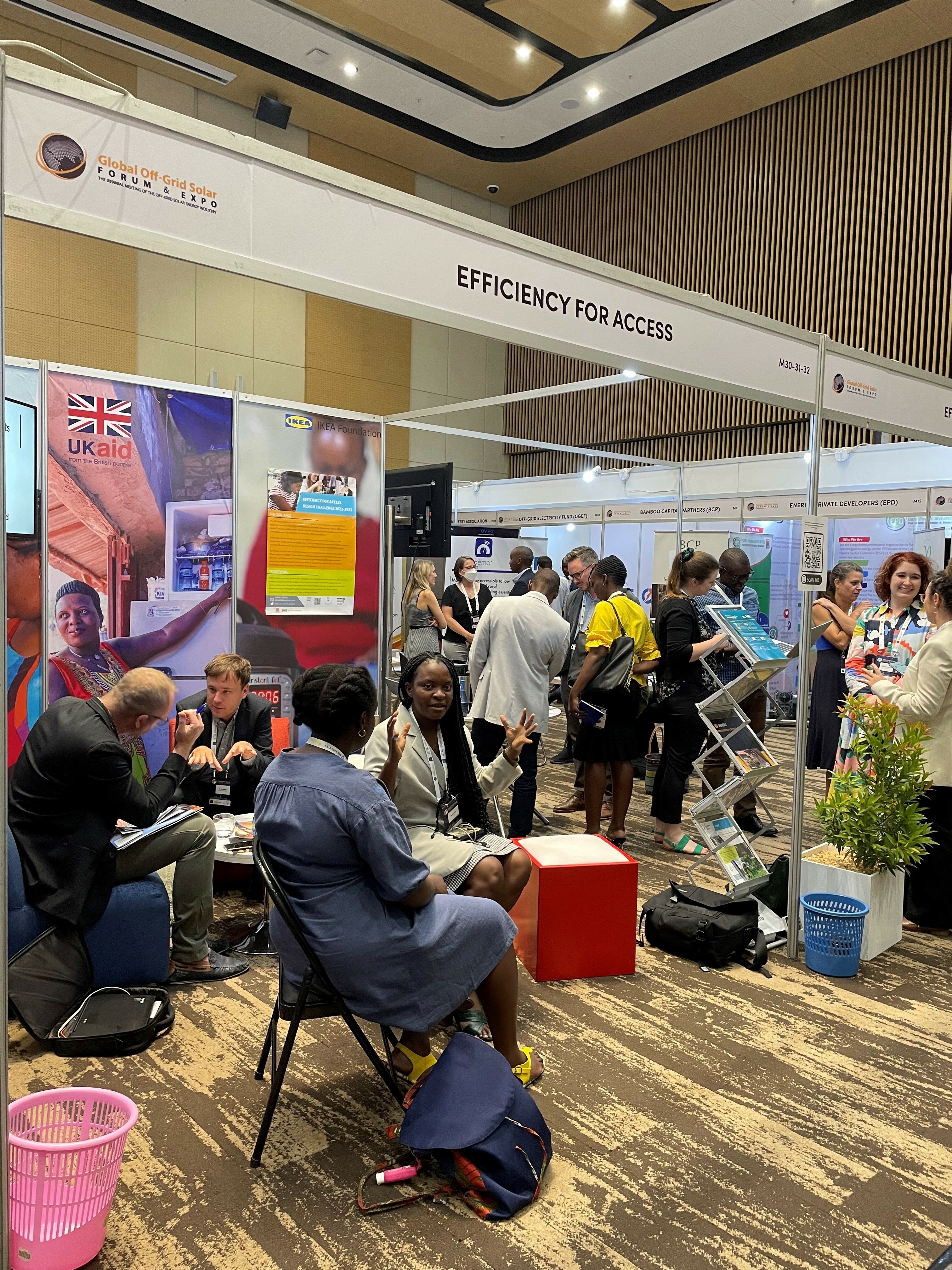 We need to increase action throughout the value chain
Solar manufacturers can assemble locally, which makes importation cheaper, distributors can offer innovative business models, such as lease-to-own or pay-as-you-go. Governments must work to create subsidies or incentives for more off-grid solar companies to operate more easily nationally. High import taxes are a major issue, so policy makers should begin these conversations with governments. Innovative financing mechanisms can make technologies much more affordable for customers too. For example, CLASP and Nithio launched a USD $6.5 million financing facility, supported in part by the Global Energy Alliance for People & Planet (GEAPP), at the Forum which will lower appliance costs for end-users by discounting the price of bulk solar appliance procurements and providing financing for distributors to enable them to sell their products on credit. Efficiency for Access also catalyses the uptake of solar appliances through its Global LEAP results-based financing program. As of 2021, the program has supported sales of more than 280,000 off-grid refrigerators, TVs, solar water pumps and electric pressure cookers in seven countries, reaching more than 1,289,000 beneficiaries.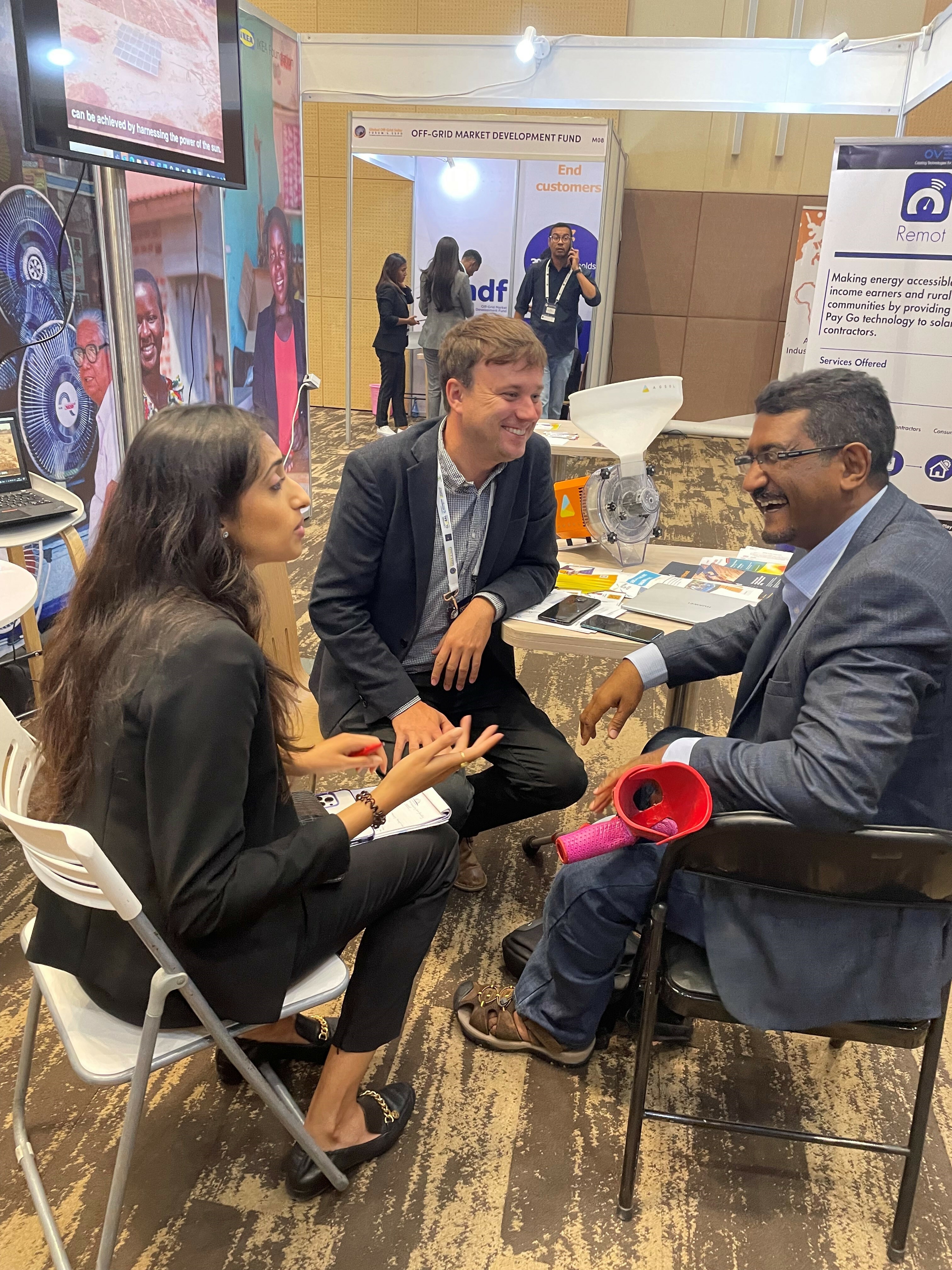 We must listen to consumer voices to drive a range of PURE appliances further along the market development curve
As explored in the Efficiency for Access-led side event, 'Productive Use – Are you listening to your customers?' during the Forum, solar appliance manufacturers and energy access programmes need to consistently listen to customers to better serve their target demographics. Although the industry has made great progress towards this, there is still a long way to go. Companies must show customers the value of their products, set expectations carefully, build and maintain trust by responding to feedback, embed inclusivity in design and delivery, and continue to tackle the affordability barrier by enabling access to finance. We often think of impact as static, but customer impact, usage, and behaviour changes over time, so it is important to understand product quality holistically.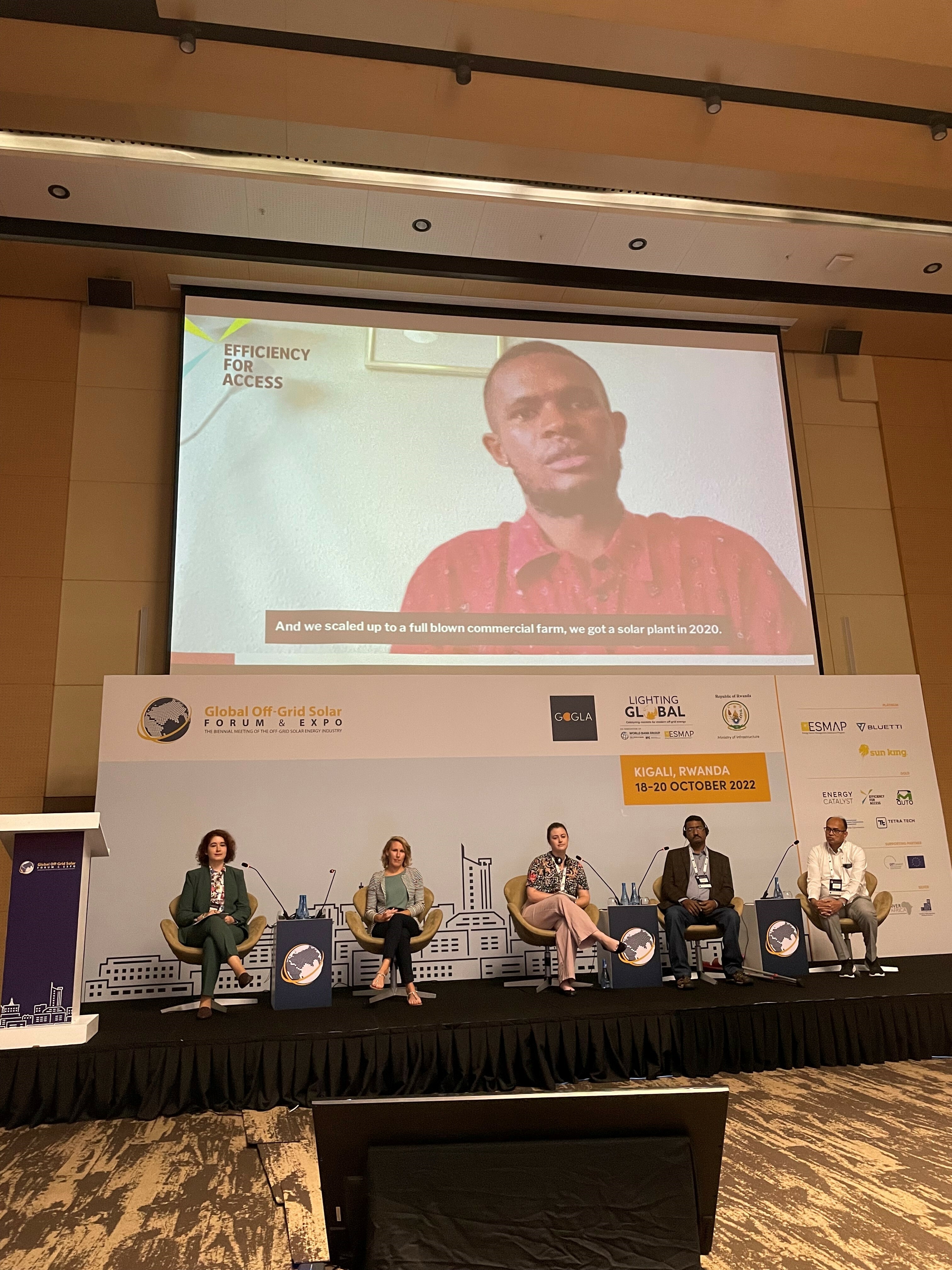 We need to see more local companies represented and supported in the sector
We saw a more concerted effort this time around supporting local companies to attend. Efficiency for Access supported 25 local organisations, and other programmes, such as ELEVATE, also platformed local companies during the event. However, there is still a distinct lack of local representation in the off-grid sector. Conversations highlighted a need for more flexible financing; as investors we need to change the systems and biases of the sector that keep out local companies. There was also an increased call for a network of local companies, mentoring one another and sharing learnings, as well as peer-to-peer technical assistance. There is also a need for coordinated policy interventions, to support local companies and incentivise demand for them.
Productive use of energy (PUE) was front and centre during this year's Forum
This year, numerous sessions focused on the benefits and developments in PUE. Despite this, there were only a few examples of active programmes or projects that are currently accelerating PUE adoption, and uptake is still relatively low, although increasing.
One solution mentioned was knowledge and awareness raising around the benefits and availability of productive use appliances. In fact, in Efficiency for Access' 'Are you listening to your customers' event, we heard from Kavita Ndolo, a farmer who uses a solar water pump, where he mentioned the knowledge gap. 96% of Kenyans surveyed during our recent consumer awareness campaign would switch to a solar water pump, but only 25% knew where to buy them. This highlighted just how essential awareness raising is to increase productive use uptake.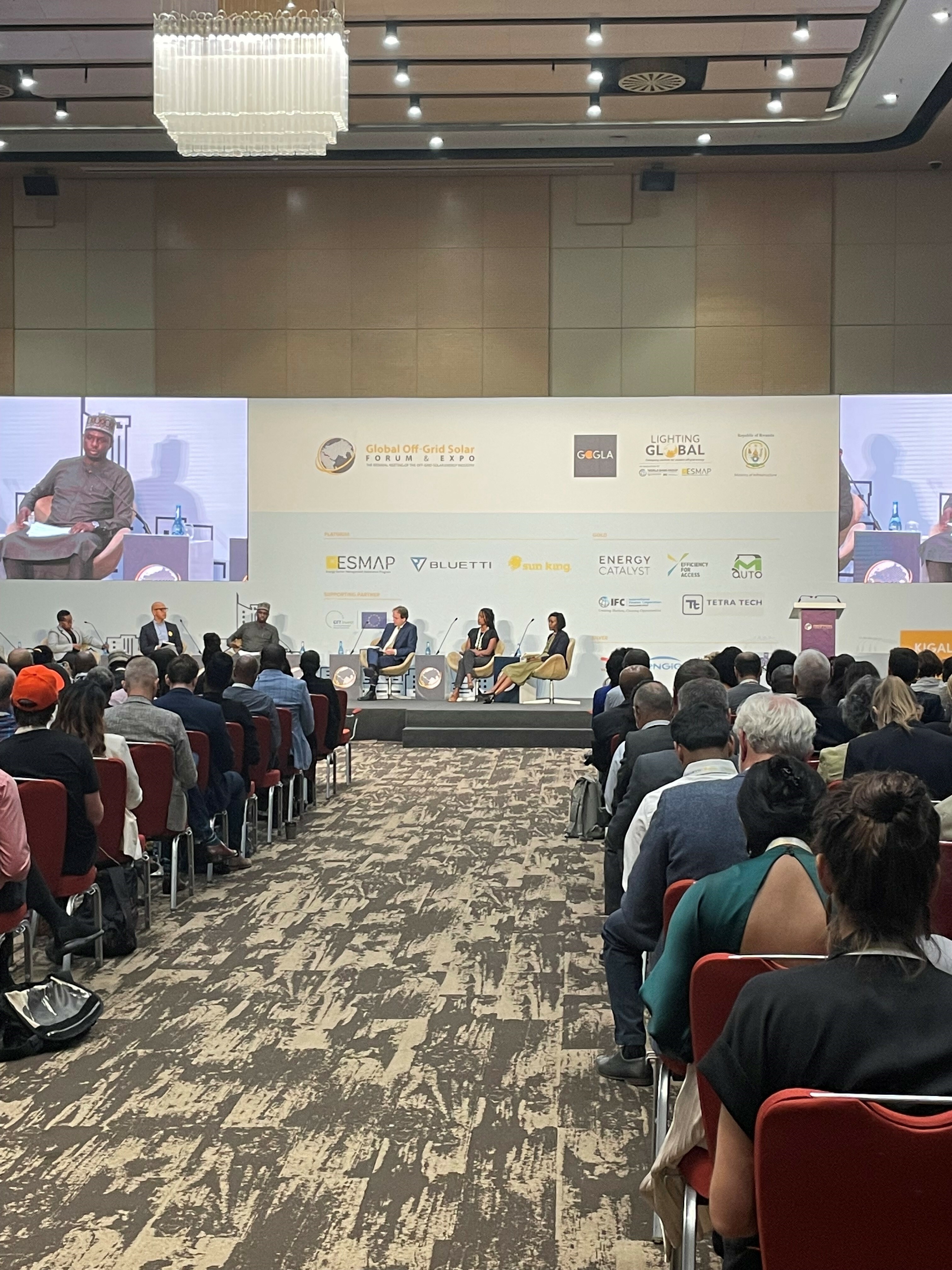 Energy access and climate nexus conversations are notably more present as the energy access sector explores carbon financing and how to capitalise on carbon credits.
The nexus between the energy access sector and its impact on the climate was widely discussed this year, with a whole panel discussion dedicated to the idea of carbon credits and climate finance within the off-grid sector. As we move ever-closer to 2030 and are seeing increasing impacts of climate change, the sector looked at ways to make the entire value chain more sustainable. Circularity is no longer a new topic – the conversation has moved from highlighting the importance of circularity to what can be done e.g., standards for repair, as seen in the three sessions during the Circularity Carnival, facilitated by Efficiency for Access and others.
Efficiency for Access would like to thank GOGLA and the Lighting Global teams for organising such a great event. For live takeaways from all of the events, please visit our Twitter page.